A technical contribution and cultural meaning
An aerodynamic vehicle Wikov 35 "Kapka" (Drop)
A similar technical contribution which a car maker Wikov was ahead of that time and permanently entered the car history was the car Wikov 35 "Kapka" (Drop), the first Czechoslovak car with aerodynamic bodywork. The car maker rushed an application of aerodynamic elements in a construction of motor cars in all significant domestic producers, especially in Kopřivnice Tatra.
Race vehicles Wikov 28/7 Supersport
It is not possible to forget race vehicles Wikov whose technical contribution was based on verification of lifetime of high used engine parts at constantly higher revs which contributed to their high reliability and improved methods of their design and construction.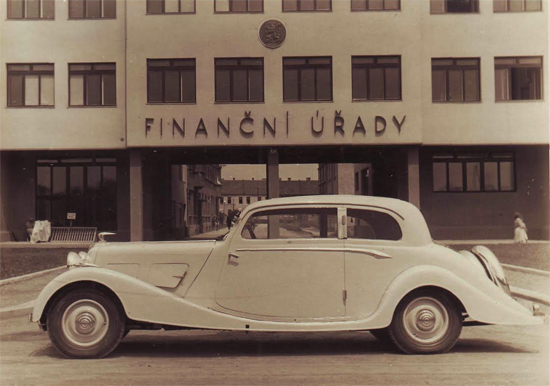 A vehicle Wikov 40 tudor as a harmonic counterpoint to a modern city architecture.
Graceful elegance of vehicles Wikov
A cultural meaning of vehicles Wikov was mainly due to the elegant bodywork which captured public attention and contributed to cultivation general taste and visual improvement of public urban and rural space. Thanks to the graceful elegance, the vehicles Wikov were harmonic counterpoint to a modern architecture.
Vehicles Wikov had a lot of supporters and even among Czech artist thanks to his technical and aesthetic extraordinariness which had an inside, original magic of specific bohemianism which was able to connect and capture.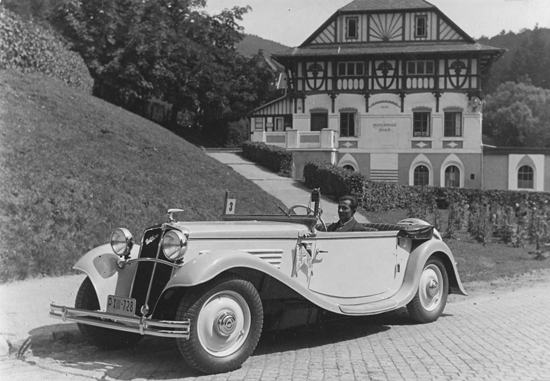 A vehicle 35 roadster (in a later version) as a harmonic counterpoint to the cultivated rural landscape.
Presage of a modern times
Vehicles Wikov were part of the beginnings of the development of motorization in Czechoslovak and at the same time were a presage of modern times because together with other car brands brought not only a new lifestyle with a freedom of movement of a person in a countryside and in a city but also a new cultural value, based on a symbiosis of human being with a beautiful and a well working machine.
A value, extending beyond its times
It is clear from the listing that it is not possible to evaluate the value of the vehicles Wikov only from the point of the view of economical losses for a company Wichterle & Kovářík which led to discontinuation of the production. Their real value extended its times and limit of the car maker. Vehicles Wikov are evidence that every job which is done with an interest and a desire to gain a perfection, it might have its own deep meaning, which is usually hidden to contemporaries and only next generation can appreciate it.