Basic parameters
| | | | |
| --- | --- | --- | --- |
| Basic parameters | Wikov 7/28            | Wikov 35           | Wikov 40          |
| The year of the production | 1927-1932 | 1930-1934 | 1933-1937 |
| Boring of cylinders/piston stroke (mm) | 66/108 | 72/107 | 76/107 |
| Lift content ( l ) | 1,478 | 1,743 | 1,941 |
| Max power (kW/it per minute) | 23,5/3000 | 27,2/3000 | 31,5/3000 |
| Max torque ((Nm/ot. per minute) | 98/1800 | 114/1600 | 121/1600 |
| Degree of compression | 5,1 | 5,2 | 5,2 |
| Fuel consumption (l/100km) | 10 | 11 | 12 |
| Max speed (km/h) | 90-100 | 105 | 105 |
All Wikov models were spark-ignition, four-stroke, four-cylinder in-line engine with OHC valve train, dynamo-battery sleep and thermophonic water cooling.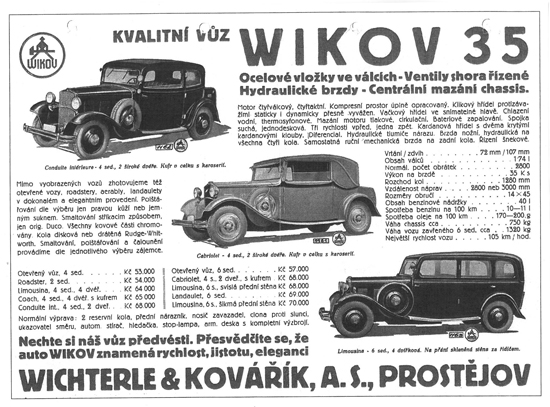 Promotional poster with technical parameters and prices of Wikov 35 cars.
A comment on parameters
When assessing the parameters of Wikov cars, we have to take into account the then conditions, especially the unavailability of high-octane gasoline, which limited the achievable degree of compression and hence the maximum engine power, then limited technical options for increasing engine parameters and the state of the road network which mainly consisted of strengthened road.
Prices of Wikov vehicles
The prices of Wikov vehicles were dependant on implementation of bodywork. Four-seat faeton Wikov 35 cost at the beginning of thirties of the 20th century 53,000 CZK, double-seat roadster of this type offered by the car maker for 54,000 CZK, four-seat limousine for 64,000 CZK, four-seat coach for 65,000 CZK, conduite intérieure and cabriolet for 68,000 CZK, landaulet for 69,000 CZK and six-seat limousine with inclined windscreen for 70,000 CZK.
The comment on the prices of Wikov vehicles
At the time of the founding of the car maker, the monthly salary of the body builder was 1,300 CZK + 360 CZK for the quarterly allowance and the salary of a workshop engineer was 3,000 CZK. Although these salaries were increased during the next 6 years, it is obvious that the car makers Wikov were considering the then social situation of wide social classes whose prevailing way of life, it was only available for upper class. In this context, it is interesting that Doctor Blacksmith had neither a driving license nor a car.