Construction
A structural philosophy of cars Wikov
During the development of the cars Wikov, a special methodical access was used which made a structural philosophy whose substance and goals were clearly expressed with credo "Certainty, strength, beauty", which was used by Prostějov car maker in an advert. It meant that vehicles Wikov were overall and in details suggested and constructed so that they could offer its user a practical security of a safety and reliable car, a big power and a long lifespan, travel comfort and strong aesthetic experience.
As a result, this access to a design of the cars required elaborate use of certified design solutions, continually improved by the application of advanced engineering features, new technologies, high quality of materials and modern aesthetical viewpoints including well organized production and exact workshop processing. Everything was subordinated to a requirement of a low weight (tin pressing, light alloy) and a big strength.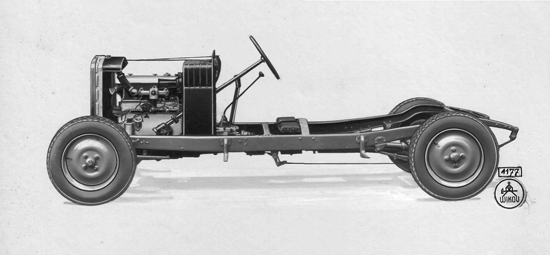 A standard chassis of the cars Wikov
The basic conception
The chosen basic conception of the cars Wikov had generally used and an operationally proved arrangement which consisted of chassis and attached bodywork. This conception enabled a use of a single chassis for various extensions of utility and their relative cars.

Rear axle of the cars Wikov, the central part of the bridge riveted from tin pressings.
Front axle of the cars Wikov, axle which was forged from a chromium steel. With the brake drum removed on the right hand side brake shoes and the brake cylinder become visible.