Vehicles Wikov
Beginning of a car market
Lots of domestic and foreign car makers competed and offered its vehicles at a car market during a time in pre-war Czechoslovakia. Car makers such as Praga, Laurin & Klement – Škoda, Tatra and Walter, also newly established small car makers like Wikov, Aero, Jawa and Zetka have been already established from Czechoslovak producers. Among the most remarkable vehicles from those companies belonged cars of a brand Wikov. Although they entered this market at the end of the year 1927 with a type Wikov 7/28, they early gained a good name of a high quality and in a way outstanding vehicle for exacting and wealthy clients.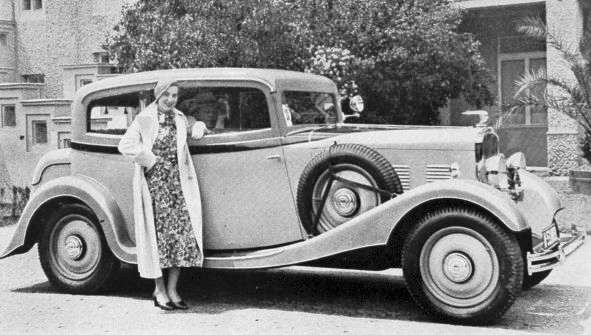 A vehicle Wikov 35 conduite intérieure (tudor), called "Swan"
Producer
It was cars produced in small series in a car department (later called a car maker Wikov) former Prostějov factories for a machines production Wichterle & Kovářík, a joint-stock company in the 1920s and 1930s. From 1927 to 1937, vehicles Wikov 7/28, Wikov 35 and Wikov 40 were mainly produced in this car maker, established in 1924.
An aristocrat among vehicles
The cars Wikov were indeed aristocrats among vehicles, how was an advertising slogan from a Prague representation in the 1930s. The vehicles were sturdy, constantly improving, literally select vehicles which were always equipped with the newest amenities the then car technique. The vehicles were solid, reliable, efficient and beautiful which participated in many domestic sports competitions and a competition of elegance where they achieved valuable places and victories.
Enrolment into history
A car Wikov 35 "Kapka" ("Drop"), the first car with an aerodynamic bodywork, whose photos flied around the world in 1931. A race car Wikov 7/28 Supersport which was classified as the first Czechoslovak race vehicle at the then Brno Masaryk circuit where it was permanently written down into Czechoslovak car history in 1932.
Culture-historical meaning
The cars Wikov are the only authentic witnesses of the famous chapter of industrial history of  Prostějov and straight participants in development of motorization in pre-war Czechoslovak. At the same time, they are precious artefacts which are distinguished by indelible seal of European visual art culture, bodywork style and patina of past times from an ancient car history.
From this point of view, not only the cars Wikov have a technical and historical value but also a cultural one. As a confirmation of this fact, is also that the race car Wikov 7/28 roadster was proclaimed as a cultural heritage by the Ministry of Culture in 1991 which took part in the first former Brno Masaryk circuit.